Elusive
I wish I wasn't so afraid, nor so cautious about it. I wish I would just go for it head on, because it's how it's supposed to be - fearless in reckless abandon, like wearing that beating organ in my chest on my sleeve. I grew up as a sheltered kid. I was raised in an uptight Catholic school and matters like this were hushed at home, like a sin that was supposed to be swept under the rug. Even when I was in college, it seemed like I was made aware that it won't do me good, that it's something to be put off until there's a diploma in the picture. I think I've been missing a big part of the whole living experience because its grand existence has remained a mere concept to me; it's something I've read and heard so much about but has felt so little. 
I'm half a human being. 

For Juan
I'm back to our little neighborhood cafe, still sitting in the corner, the one I referred to one year ago. A few pounds fatter and a years-worth of sleep deprivation evident on my face, I'm writing again to tell you that I survived my first year in the nitty gritty entertainment industry. *standing ovation*
Words and adjectives are not enough to fully explain how I have been. I've bounced like a ping pong ball to the worst and to the best moments of my 21 year existence. Showbiz is for the thick-skinned, indeed. For the idealistic post-grad newbies like me, it's like a creature/machine who'll eat you up and chew you like a gum, throw you out of the window to be run over by ten-wheeler trucks, only to test you if you can dust yourself off and repeat the same process all over again the next day.
The past year has been a bipolarity of all sorts. I came to the point where I drafted my resignation letter and only mustered enough courage and sanity to hit backspace several times; I dwelt on days when I kept on convincing myself that the only good thing about waking up in the morning is that it's one day closer to the finale.
But then, I also had those moments when my disposition would turn 180 degrees. There are times when I watched our show, I'd get all teary-eyed thinking to myself, "this show is so damn good and I'm part of it!" I'd pat myself in the back for doing something good and relevant to society by working for a TV show that inspired so many Filipinos. I felt like a mattered.
My work was like a love-hate relationship. It was both my source of depression and happiness.
I never knew I was capable of doing so, but I gave my all for the show - my schedule, my free time, my health, my comfort, my hobbies - the entirety of me. God knows how many birthdays, anniversaries, break-ups, drunk sessions, and family affairs I missed because of taping. My family have already forgotten how I looked like. Suffice it to say, it demanded all of me, and I had to surrender - the truest, purest manifestation of workaholic-ism. 
But Ralph Waldo Emerson said, for everything you have missed, you have gained something else. I may have gained weight for sure, but it's not all that. No amount of rest, or sleep, or TF can buy the life experiences and friendships I gained because of this job. We've been through so much in the show, we've defied impossibilities on Philippine TV (you guys have no idea what happens behind the scenes). We were all in it together, and surviving all that sealed the deal of our solid bond. The kind of company we had on the set was the sweetest take home prize of all.
Perhaps the most of what I got from my job is how much it made and unmade my character. It built me up, only to tear me apart again. Like our bida, Juan, it was ultimately a journey of self-discovery for me, too. It taught me values I wouldn't learn anywhere else. This, I apparently discovered, is a no-bullshit industry. I was forced to grow up beyond my years, for a stupid mistake would entail thousands (and a long sermon from your superiors). 
This show has earned a permanent, indelible spot in my heart (I'm getting all teary-eyed right now typing this). And I will miss it all so dearly (even if I hated it to the core at one point). I'll miss the set, the lifestyle, the people, the daily grind. I was never sure I would finish the show… but I did. And I learned to love it along the way.
But right now, uncertainties cloud my mind, and I don't know what's next for me. The future is such a scary place, though my experiences from my first show has greatly given me enough courage to march on like a soldier.
This is a time for some great introspection.
But I thank you, Bossing, nonetheless, for granting me what I wanted. To work on television production was exactly what I hoped for. My first show was nothing less but Juan Dela Cruz. I'm a lucky girl!
And to Ms. Emerald and ate Eila, thank you for the second and third chances, for allowing me stumble so that I could wash the blood off my knee and learn the lesson the hard way. Kuya Bryan, kuya Jaypee, ate Trish, ate Alma, kuya Kim, thank you for the leadership, for the guidance and advice. I appreciate all of it even if I appear to be so stubborn. To my crew barkadahan, our drinking sessions helped me survive it. I'm just a text away. *wink wink*
Ah, and now - photos! 
Thanks for the memories.

Dearly beloved
I'm writing to tell you that I am alive and well, and probably am in my best living condition to date. I can't begin to write about the past few months of my life because it's quite difficult to sift through all that huge dosage of life experiences. In addition to that, I think that perhaps in the process of carping that diem, I may have lost my mojo in writing and chronicling my history. You know, blogging has its obligation to sticking to the aesthetics, accuracy and color of a certain memory one is writing about. I don't want to reduce the past few months into a bland, understated paragraph. 
Let's just say, dearly beloved, that if people keep on saying that "in the end, everything will be all right" then maybe this is the end? Because right now, this warm fuzzy feeling in my chest is telling me that everything is good and right and pleasant. So this is how it feels - to bask in the belly of life, to prance in the beauty of existence, to understand what it is to be human. It took twenty-one years for the universe, and the stars, and the cosmos to conspire to grant me the wonderful privilege of this feeling. Have I even lived before this?
If my words ring true and breath runs out of my lungs in this end, I wouldn't mind lying on my grave with this feeling of having truly lived.
This year, I am a champion at winning in life.

Pep Talk
Now that you are beginning the fulfillment of your dreams, be idealistic for as long as you can. No, you won't change the world, let alone this dog-eat-dog industry, because the chances of you single-handedly moving mountains in a lifetime is one in a million. A Steve Jobs, or (for a local counterpart) a Genny Lopez can only exist in this planet sparingly. You can't overhaul the system and make everything good and beautiful and pleasant. You just can't. Instead, remember that the little things you do today will contribute to the larger, collective efforts of a group of like-minded people with the same goal of improving this world These people consists your generation and you are a part of something bigger than yourself. Everything you do in this industry while you're still alive, no matter how menial and petty it may seem now, will impact the future. It will be like a domino effect. The person you will become and the quality of work you do will determine the direction of the spiral. Will it be a downward, or an upward spiral? It's in your lanky, damp hands little one.
You always wanted to set a goal for your life other than furthering your own ambitions, and this is it. You work in television, (still) the most important medium there is, and you are in the perfect position to serve a greater cause. Everyday, your countrymen spend a significant amount of time and attention to your medium. You provide knowledge, information, hope and inspiration. Television is influential. It has changed the world then, and it can still do so now.
So promise me that you won't let them change you. You won't let this become a money-making, ego-boosting game played by cynicism, apathy and greed.
Be idealistic for as long as you can until you get to that penthouse office where idea is power.
This is your generation's calling. Do your part.

Your country deserves your best. 

Thoughts on 'On Chesil Beach'
"Love and patience - if only he had had them both at once - would have seen them both through."

"All she had needed was the certainty of his love, and his reassurance that there was no hurry when a lifetime lay ahead of them." 

"This is how the entire course of life can be changed – by doing nothing. On Chesil beach he could have called out to Florence, he could have gone after her. He did not know, or would not have cared to know, that as she ran away from him, certain in her distress that she was about to lose him, she had never loved him more, or more hopelessly, and that the sound of his voice would have been a deliverance, and she would have turned back. Instead, he stood in cold and righteous silence in the summer's dusk, watching her hurry along the shore, the sound of her difficult progress lost to the breaking of small waves, until she was blurred, receding against the immense straight road of shingle gleaming in the pallid light."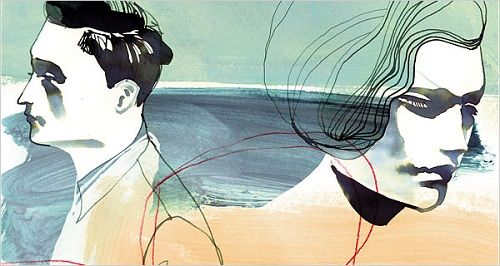 Illustration by Tina Berning
Usually it takes me a week to finish a book, but this one only took me one and a half days. It's a short read with only about 200 pages, but besides the length of it, the story is quite engaging. It tells of the first few hours of the honeymoon of a newly married couple, Florence & Edward, who happened to be virgins. It's certainly a page-turner because I wanted to immediately gratify my curiosity if the couple did it, or not. The story is set in London in the 1960s, and sexual intimacy was considered a huge deal for a couple. A man had to marry a woman in order to, quoting the words from the book, "enter her." Sharing this philosophy, I would say I felt empathy both towards Florence and Edward. The wedding night for people like me is a leap of faith.

I would describe the novel a story with too many sentences, but I appreciated how McEwan's writing captured the beat of London - Oxford in the 60s. I actually ready it with a British accent in mind. This is my first read among his novels, but it isn't the first time I encountered his work. Basing from the ending of Atonement and On Chesil Beach, I observed that he is not fond of that happily every after. Instead, he puts his protagonists in a position of remorse, of regret over his actions some few years earlier in the story - the consequences of which the protagonist would continue lamenting on as his story continues even after the last page of the book.

McEwan could be obsessed with that one life-altering moment on a fateful day, and the effects it could bring forth if not handled wisely. If there is one thing I could bring home with me after reading this book, it's the hope that I would never be like Edward, or Briony, or any of his protagonists who, although eventually moved on, suffered an irretrievable loss that brought them a permanent bruise in life.



Everything I want is a cliche
I have been vocal that I have never fallen in love with a man in my twenty years of living. My heart is unscathed and safely beating in my chest. I have been learning about this beautiful thing that is love through conversations with couple friends and through films, music and books I encounter. I know I can never fully grasp it without experiencing it myself. Someday, in God's perfect timing, I will.

For the meantime, I find myself giddy in anticipation of love while reading the autobio of Rob Sheffield, Love Is A Mix Tape. The way he wrote about Renee showed just how the love they had was one great true love. They didn't have much dough, but they had each other and the music that brought them together. I find myself a little tearjerky when I read the following excerpt (it's a little long so just bear with it):
Have you ever been in a car with a southern girl blasting through South Carolina when Lynyrd Skynyrd's "Call Me the Breeze" comes on the radio? Sunday afternoon, sun out, windows down, nowhere to hurry back to? I never had. I was windows down, nowhere to hurry back to? I never had. I was twenty-three. Renée turned up the radio and began screaming along. Renée was driving. She always preferred driving, since she said I drove like an old Irish lady. I thought to myself, Well, I have wasted my whole life up to this moment. Any other car I've ever been in was just to get me here, any road I've ever been on was just to get me here, any other passenger seat I've ever sat on, I was just riding here. I barely recognized this girl sitting next to me, screaming along to the piano solo.

I thought, There is nowhere else in the universe I would rather be at this moment. I could count the places I would not rather be. I've always wanted to see New Zealand, but I'd rather be here. The majestic ruins of Machu Picchu? I'd rather be here. A hillside in Cuenca, Spain, sipping coffee and watching leaves fall? Not even close. There is nowhere else I could imagine wanting to be besides here in this car, with this girl, on this road, listening to this song. If she breaks my heart, no matter what hell she puts me through, I can say it was worth it, just because of right now. Out the window is a blur and all I can really hear is this girl's hair flapping in the wind, and maybe if we drive fast enough the universe will lose track of us and forget to stick us somewhere else.
I think these two paragraphs describe the kind of love I would want - stripped off of the drama and complications - no fireworks, no grand gestures, nothing extravagant. Just that raw moment between you and him, sitting there in the passenger seat and realizing (in the words of Sylvia Plath) that "you have fallen, and could fall no farther" into this beautiful mess that is love.
Aagh, everything I want is a cliche. 

Head & Heart
This is the season in my life when I spend a lot of time inside my head. I am like a kermit now, making a living inside the creases of my mind. I am blanketed by my imagination and my dreams serve as lullabies. The human brain is indeed fascinating. I get too comfortable sometimes that it becomes scary, that I might be trapped in this previously unexplored land like a soul in limbo. But mostly, it has caused me a great deal of introspection. 
Being alone inside my head has lead me to understand my heart more. I believe I see it better now, how I look in the mirror and see a lonely, sad being staring back at me. I feel my heart pumping blood to my veins, but it never made me feel alive past the normal physiological, bodily functions of a human. Maybe because I've been carrying an empty vessel in my chest, continually beating for no other reason than to exist.
It lacks love. And the discovery that it is capable of giving love. It is man's lifelong quest after all - to love and be loved - and this is something I have deprived my heart for so long. Perhaps in the process of guarding and protecting it, this heart has put up a wall, convinced it can survive on its own.
But as much as the brain is fascinating, the heart is even more alluring, for the heart encapsulates love, and if given in sincere and reckless abandon, love makes everything right.
So I look at this empty vessel beating in my chest, and I want you in it. You inside my heart, overflowing with love to the brim. My heart will be kind and genuine and caring as much as you have been to me. We will love and give love like the world is not watching. And maybe then, I could get out my head and live in your heart, instead. 
—
For the same no name face who inspired this.

Labyrinth
"They're mourning for their childhood more than anticipating for their future."
Today is my last day here in my hometown. I'm capping off a three-week visit, the longest I have ever had since four years ago. I've felt an overwhelming range of feelings and emotions in the many days I stayed at home and strolled around the city I grew up in, but mostly, they can be summed up by that line I quoted from Mad Men. Needless to say, I have been mourning all this time. Ah, the pangs of growing up.
This is a critical phase in anyone's life, especially for people like me who lived independently while in college. Although it's only a one hour plane ride from Manila, I feel like I've been so far away from home. I am so detached and disconnected from the life I had here. When I packed my bags and left four years ago, I didn't realize that maybe I was already bidding farewell for a permanent leave.
My mourning manifests as a trance of childhood flashbacks and episodic highs of nostalgia whenever I go around the city or wander memory lane when a certain place or face causes me to. The prevailing thought across my mind has always been how the passage of time and change has left me behind. Whenever I'm in a moving vehicle, the windows becomes a portal of presentation, of how the people and the city have continued and built their lives without me - the new buildings, the unfamiliar faces of the locals, and just the different arrangement of things, of jeepney routes, and of streetnames. Everything tells me that I'm passing by as a visitor. 
Even at our house, it's no different. I come home to forty percent of the original house I grew up in. The rest has been renovated while I was away. The lawn and backyard are gone; the 22 year old mango tree is dead; the dogs are barking at my unfamiliar face; the doorlocks have different keys; and the facade welcomes you to an almost different house. It's this semblance of the familiar and unfamiliar for even though pieces of my childhood still linger, nothing will ever be the same again. The past is set aside to make room for the newness. This house has adapted itself to the changes in the lives of its residents, and right now, I am just a guest. It's in the little details that I arrive at such realizations - how my old clothes and things have been kept for storage, how the bed I slept on through high school has been dismantled and put away, and how the things in my luggage, stay in the luggage in the entirety of my stay. There is this presumption that my stay is temporary.
And then I look at my family, at my parents, especially, whom I've been only talking thru short SMS messages and agitated phone calls (some of which I purposely don't answer) in the most parts of the past four years. My father has more gray hair and my mother has retired now. They have grown old, indeed. But beyond the physical aspect of it, my perception of them has matured too. They have gradually become multidimensional in my eyes. I start looking at them past the domestic roles they played in my life. They're no longer these mere two parental figures - a mother and a father - anymore. They are layered beings, with a past, with insecurities and disappointments and crises and life goals,both met and unmet. They are a walking, breathing story just like me, and these are the motivations behind their actions. I mourn at the fact that I hadn't realize this sooner.
Then, there is this thing with my friends, with Nadine specifically, the only person from my high school I maintained close contact with while I was in college. During the times we are together and talk about careers, boys and life, I ponder on how I am around her. She makes me feel like the high school version of myself, a different persona, a doppelganger I thought I buried in the past. Surprisingly, I figured that it's okay to be like that with her because it's an honest form of showing a vulnerable state to a friend, with all that pent-up angst and unresolved childhood issues. But I also realized how different and far I have grown from that person she made friends with in grade school. We have gathered life experiences and finalized our identities apart. We tell stories of our individual lives, mentioning significant people, and memories. Although there is a shared empathy towards each other's life experiences, it is not oblivious that we both are estranged from the details of our current lives… for the people and memories we tell remain as only names and events to the other. 
So after three weeks of quiet contemplation and mourning, what do I do now?
Just like people who grieve and mourn for a lost loved done, I guess I will continue with life and live with the pain and loss. We take the good with the bad, and vice versa. It's just the natural course of life - we realize things, ponder on them, carry them as gems of wisdom and treat them as fuel to carry on the journey.
If there's one thing I figured out from all the things I wrote above, it's that we're not getting younger anytime soon. There is no formula to slowing down the growing up and getting old process. Everything is changing and will be changing. 
In this labyrinth of a life, the only way to get out is to keep on moving. In the words of Toyota - "Choose any direction, as long as you are moving forward."
So tomorrow morning, I'm getting on that plane.
I'm never looking back.

Foolishness
I know it has been months ago, and a lot of things have happened that should have buried that memory in my mind already, but it stands out like a neon color among a hundred of other monochromatic events in my life. This thought is getting old, but I won't let go of it for just a little longer. Maybe I'm just making something out of nothing. Maybe this is just a figment of my own devices, a product of this haunting solitude. Maybe I'm just hanging on to a timeline that will never happen in this universe.
I don't know. I really don't. But I'll keep on believing and holding on to it, until I don't have to anymore… because it finally happened in real life, on a version of this fantastic freaking universe where we actually both exist. If it doesn't, I'll have nothing to lose, except that I wore my heart on my sleeve.
But I have this gut feeling it will.


Page 1 of 11