For the yuppies
I call this playlist "Songs For The Idealistic Post-grad With Existential Crisis." Hands up if you're one of us. The best time to listen to this playlist is during your morning or evening commute, while you're staring outside the window of the train/cab/jeepney (and coincidentally, a plastic bag drifting through the wind appears… and you have a strange empathy towards it) and you feel like you're inside a Sofia Coppola movie. Click here to download!
Track list: 
1. Imagine the Dragons / It's Time
2. Death Cab For Cutie / The Sound of Settling
3. MGMT / Time to Pretend
4. Bob Dylan / Changes
5. Switchfoot / American Dream
6. Empire of the sun / Walking on a dream
7. Jimmy Eat World / The Middle
8. Scouting for girls / Famous
9. Foster the People / Houdini
10. MGMT / The Youth
11. Eddie Vedder / Society
12. Noah and The Whale / L.I.F.E.G.O.E.S.O.N.
13. OK Go / This too shall pass
—
And here are some words of wisdom from Charles Bukowski.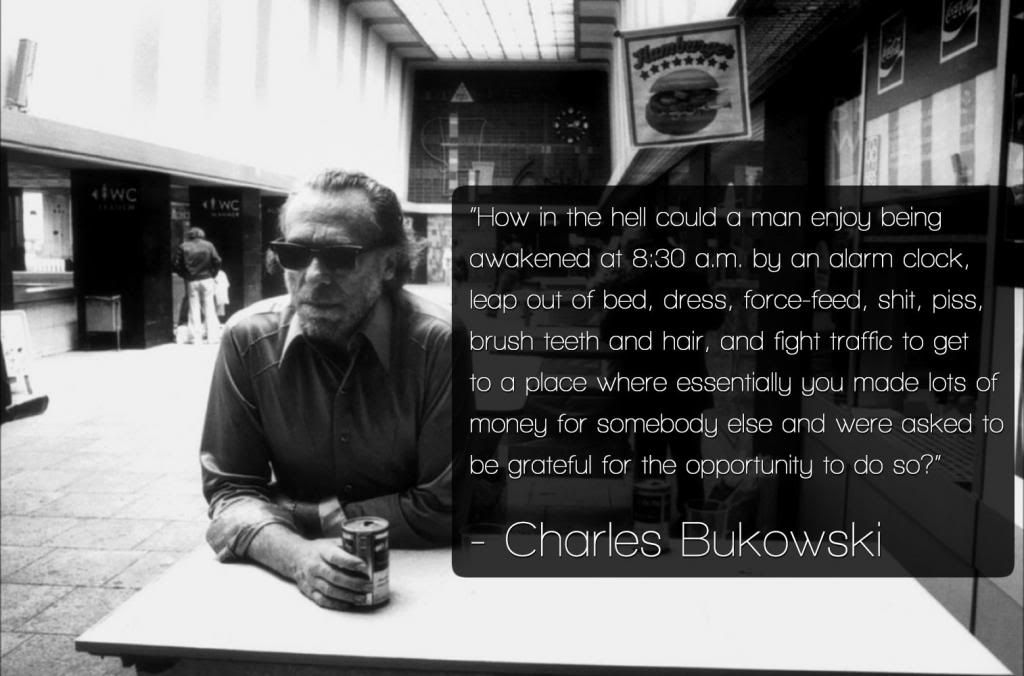 Bull's-eye!


Gray
Dear all,

The weather has been a buzz kill lately. Classes, work and appointments have been cancelled. Umbrellas, booties and sweaters have been left outside the hallways to dry. The sun has been in hiding for the longest time and ten in the morning looks like six in the afternoon. With this kind of weather comes this wistful playlist that puts you in a timely mood.

Attributing the title to the downcast hues of the everyday skies, I call this the Gray playlist. Walk down the deserted, wet streets at night (if you're nuts), with your earphones plugged in and your umbrella in hand and think of trying to disappear completely with the first track. We all have our moments to indulge in such feelings. But cheer up! Just as this playlist ends in a hopeful tone with Noah and The Whale's acoustic instrumental Paradise Stars, the sun will come out soon, the flood waters will recede and you'll get over that warm, fuzzy feeling. This too shall pass.

PS. While listening to this, go pack your donations for your chosen relief operation. Here's mine. You can also visit  http://www.redcross.org.ph/ 

Track list:

How to disappear completely / Radiohead
Friends, lovers or nothing / John Mayer
Night Time / The XX
Modern Man / Arcade Fire
Re:Stacks / Bon Iver
Message / Coldplay
We Give In Sometimes / Up Dharma Down
Not Alone / Augustana
Soul Meets Body / Death Cab for Cutie
Sentimental Heart / She and Him
Only got one / Frou Frou
Mushaboom / Feist
Foreground / Grizzly Bear
We can look up / JD Vernon
Paradise Stars / Noah and The Whale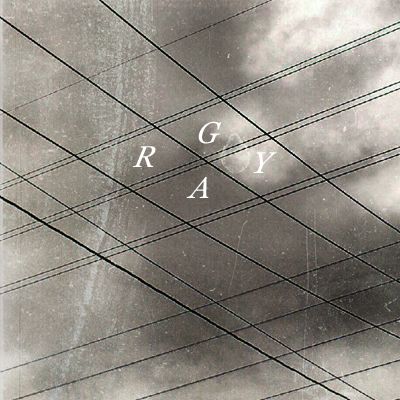 Gig Posters
A few months back, while I was browsing the interwebs for visual inspiration, I stumbled upon the website Gigposters. It was like finding a pot of gold! Music, bands and art are three great things on their own. Combine the three together and they make into something so beautiful and funky that I can ascribe all positive adjectives to it. Props to the artists! I bow down to their creativity. It's more than just a matter of advertising and promoting a concert. Designing gig posters requires the designer a huge amount of artistry and ingenuity to capture the character of a band and its music and execute it into a visual masterpiece. 

I scoured the website for the best gig posters they have of my favorite bands at the moment . I want to print them all and hang them on my wall (hey, that rhymes)!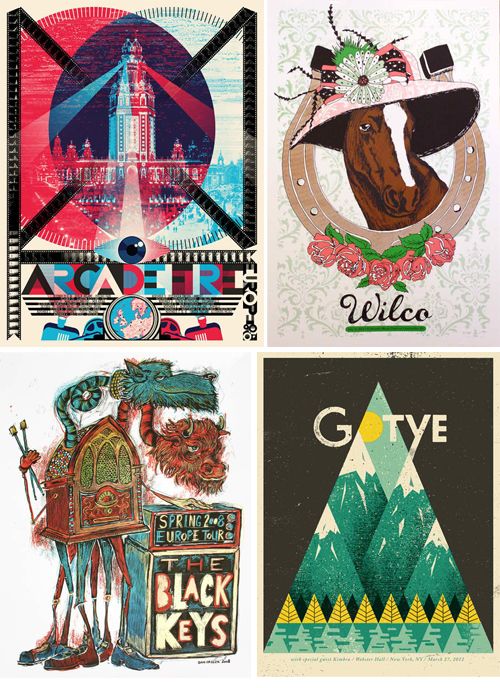 Arcade Fire, Wilco, The Black Keys and Gotye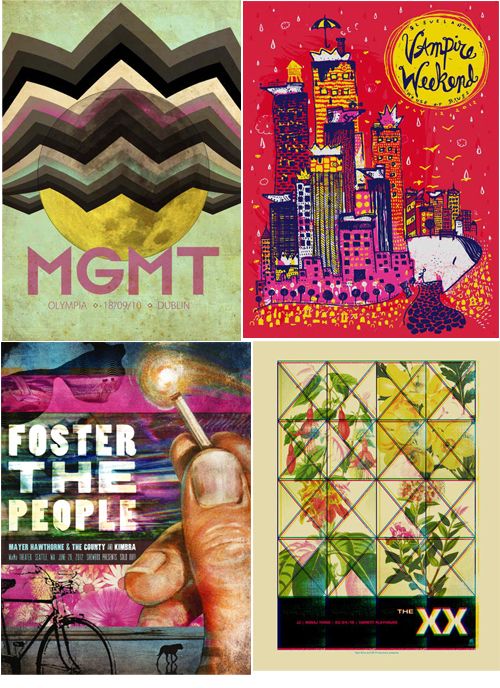 MGMT, Vampire Weekend, FTP and The XX

My fascination for such "art pieces" isn't random. I used to want to become a full time graphic designer myself and design concert posters and album covers. But I figured I had to be honest to myself if I'd be chasing this kind of path - my skills are still inadequate at the moment. Hahaha!

I rest my case. It's something I'd do on the side… for now.  

July
Everybody is a sucker for new beginnings and July kind of brings in that feeling. There is a certain breath of relief and novelty knowing that today is exactly halfway through the year. The past six months have been too much of both worlds, with thesis and graduation and employment in the agenda.  So right now, I'm declaring July the month of setting my life on track. To get the ball rolling, I made a playlist that brings in many pleasant feelings. It's the kind of music you would listen to when you're in your little nook, or in the bus and you zone out while thinking about the last six months and contemplating about your general plan of action in the next six months of the year (in a non-dramatic-forward-looking manner of course).
Track list:
Fair / Remy Zero
Light A Roman Candle With Me / Fun
Lua / Bright Eyes
Reasons / Augustana
Codes and Keys / Death Cab for Cutie
Come on, Come out / A Fine Frenzy
Breathe In / Frou Frou
The Upsetter  / Jack Johnson
Rome / Phoenix
High and Dry / Radiohead
You and I / Wilco
Congratulations / MGMT
Give A Little Love / Noah and the Whale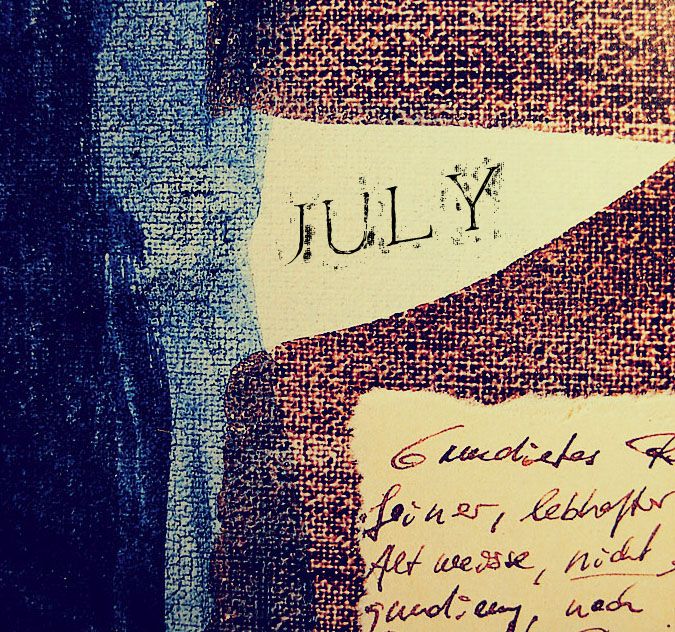 Click here to download! 






Page 1 of 10