To my friends in real life
I know I haven't been physically around for months. I wasn't there when your boss patted you in the back for a job well done. I wasn't there when the cute guy in the grocery store opened the door for you. I wasn't there when you moved in to your new apartment. I wasn't there when you and him broke up. I wasn't just there - when life was and is gradually happening and unraveling for you.
For this, I humbly apologize.
I feel that I am at a critical phase in my life when the world is so ungenerous to me, of time and moments and the in-betweens.  I am always running against the ticking of the clock, and that the hours are like grains of sand on my hands - swiftly being blown away by the winds of deadlines and to-do lists. Perhaps I am severely guilty of work-life imbalance, and right now, I am in no position to have a cure for it.
I miss you friends in real life, and I feel like Sylvia Plath right now - reeked with sadness for missing out in the most exciting twentysomething moments of your lives. We're supposed to be out there together, conquering one adventure at a time like the plans and dreams we carefully wove in our imaginations back in college. 
I am sorry for taking an inevitable solo flight.
All I ask is that you don't forget me; that for every laughter or tear you encounter in my absence, remember that I am thinking of you. Always. 
When I finally have my time and myself back from this odd, irregular world I signed up for, I hope it will be like how it was before the crazy schedules and flux of life came in - just you, me and the genuine friendship we have.
Sincerely,
Char


Dearly beloved
I'm writing to tell you that I am alive and well, and probably am in my best living condition to date. I can't begin to write about the past few months of my life because it's quite difficult to sift through all that huge dosage of life experiences. In addition to that, I think that perhaps in the process of carping that diem, I may have lost my mojo in writing and chronicling my history. You know, blogging has its obligation to sticking to the aesthetics, accuracy and color of a certain memory one is writing about. I don't want to reduce the past few months into a bland, understated paragraph. 
Let's just say, dearly beloved, that if people keep on saying that "in the end, everything will be all right" then maybe this is the end? Because right now, this warm fuzzy feeling in my chest is telling me that everything is good and right and pleasant. So this is how it feels - to bask in the belly of life, to prance in the beauty of existence, to understand what it is to be human. It took twenty-one years for the universe, and the stars, and the cosmos to conspire to grant me the wonderful privilege of this feeling. Have I even lived before this?
If my words ring true and breath runs out of my lungs in this end, I wouldn't mind lying on my grave with this feeling of having truly lived.
This year, I am a champion at winning in life.

For the yuppies
I call this playlist "Songs For The Idealistic Post-grad With Existential Crisis." Hands up if you're one of us. The best time to listen to this playlist is during your morning or evening commute, while you're staring outside the window of the train/cab/jeepney (and coincidentally, a plastic bag drifting through the wind appears… and you have a strange empathy towards it) and you feel like you're inside a Sofia Coppola movie. Click here to download!
Track list: 
1. Imagine the Dragons / It's Time
2. Death Cab For Cutie / The Sound of Settling
3. MGMT / Time to Pretend
4. Bob Dylan / Changes
5. Switchfoot / American Dream
6. Empire of the sun / Walking on a dream
7. Jimmy Eat World / The Middle
8. Scouting for girls / Famous
9. Foster the People / Houdini
10. MGMT / The Youth
11. Eddie Vedder / Society
12. Noah and The Whale / L.I.F.E.G.O.E.S.O.N.
13. OK Go / This too shall pass
—
And here are some words of wisdom from Charles Bukowski.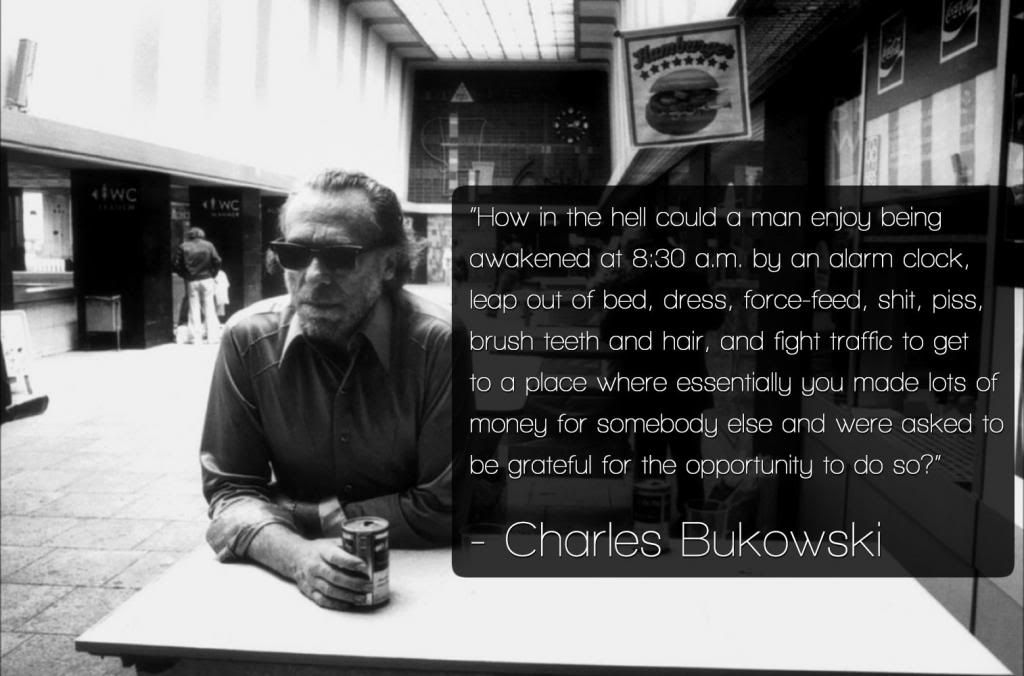 Bull's-eye!

Post-grad blues: Month 1
I just turned a month old at the television network I'm currently working for. As expected, it has been quite difficult with all the life adjustments I have been accommodating lately.
For starters, I am working in the mainstream media and I sometimes feel that I am a fish out of water, like I'm doing participant observation, or doing an ethnography to confirm or deny the speculations I have of mainstream media. I am used to criticizing it and shunning it back while I was still an undergrad in UP, and now, here I am. I'm one of them! I can't help but result to the proverbial mainstream vs indie comparison because my first job was after all, an indie film production. Things were different. People were passionate about what they're doing and I am certain they weren't there for the money (because there isn't much). Sometimes, I ask myself - why am I even here when I don't subscribe to their way of thought. But then, I remind myself that I'm here precisely because of that. 
Being the new kid on the block is not the best feeling in the world. When I was in grade school, I always felt bad for the transferee, having to sit through lunch alone, while everyone else has his own cliques to exchange stationery papers and inside jokes with. Well right now, I am that lonely transferee kid. It takes time to socially warm up, especially in a professional set-up. We're not there to be barkadas anyway, but to make a television show. But of course, it never hurts (and it helps a great deal) to be friends with the people you work with even outside the workplace. This is something I will continue to work on. I believe it is a serendipitous thing to find someone who shares the same wavelength as I have, so I am keeping my fingers crossed for serendipity to take place. 
And of course, there is always that issue of proving to colleagues that I can deliver a job well done. As a post grad, nobody knows who you are and how good (or bad) you are. They don't know what mountains you have moved when you were in college, or how many bacons you've brought home (because it doesn't actually matter in the real world, unless it's something so grand like an international award of superhumaness). You. Are. Starting. From. Scratch. Tabula rasa, baby. This could either be a good thing or a bad thing. In my case, well….. I'm not so sure. All I know is that I can do so much more than ordering food and photocopying (Important note: I'm not saying this is all I do. This is for illustrating purposes only). 
Well! I have to make a conclusion now and I don't have one. It's on-going. A few months from now, I don't know if "this too shall pass." For anyone who bothers, I will keep you posted. For the meantime, here I am, trying to enjoy the view of Filipino glitzy showbiz from the bottom of the pyramid-pyramid (Charice reference! Hahaha).
So this is how it feels to be a starving artist keeping a day job. The life!
PS. I have resolved that I'll be infinitely happier to go home after a long day of work and find a fat cat curling on my bed. Cats are God's gifts to us! They are stuffed toys that breathe! Somebody get me a cat please :(




Pep Talk
Now that you are beginning the fulfillment of your dreams, be idealistic for as long as you can. No, you won't change the world, let alone this dog-eat-dog industry, because the chances of you single-handedly moving mountains in a lifetime is one in a million. A Steve Jobs, or (for a local counterpart) a Genny Lopez can only exist in this planet sparingly. You can't overhaul the system and make everything good and beautiful and pleasant. You just can't. Instead, remember that the little things you do today will contribute to the larger, collective efforts of a group of like-minded people with the same goal of improving this world These people consists your generation and you are a part of something bigger than yourself. Everything you do in this industry while you're still alive, no matter how menial and petty it may seem now, will impact the future. It will be like a domino effect. The person you will become and the quality of work you do will determine the direction of the spiral. Will it be a downward, or an upward spiral? It's in your lanky, damp hands little one.
You always wanted to set a goal for your life other than furthering your own ambitions, and this is it. You work in television, (still) the most important medium there is, and you are in the perfect position to serve a greater cause. Everyday, your countrymen spend a significant amount of time and attention to your medium. You provide knowledge, information, hope and inspiration. Television is influential. It has changed the world then, and it can still do so now.
So promise me that you won't let them change you. You won't let this become a money-making, ego-boosting game played by cynicism, apathy and greed.
Be idealistic for as long as you can until you get to that penthouse office where idea is power.
This is your generation's calling. Do your part.

Your country deserves your best. 

0813 PM, Neighborhood Cafe
I have taken the road less traveled (and deliberately avoided). I am terrified and scared and a part of me also feels numb. I think my brain is in my chest and my insides are coming out of my pores. I know it sounds gory and disgusting but I just can't properly describe how I feel right now. 

I want to remember this hour while I'm typing these words here in our neighborhood cafe, in the corner table with a plate of Cream Dory getting cold on the side. I want to remember this hour when I have this blank, empty slate in this new quote-unquote professional phase of my short life. I am starting at one. I am a nobody. I have the rest of my life in front of me.

Remember this hour when all the decisions I've made and unmade have pushed fate to bring me to this moment.

I remember this hour - I indulge in it, I savor it, I live it.

The future is happening soon.  


Page 1 of 76