First Night of June
I wish I could start this post with a recent memory of you and I. It would go something like — I woke up with the smell of sunny side up frying in the little kitchen of my studio apartment. Okay, you let yourself in again. I forgot I left the duplicate key under the mat. But thank you for crashing because ohh, that Sunday morning feeling - you and I in our pajamas, eating breakfast of burnt toast and eggs on bed, discussing about you and your lucid dreaming the night before, and wiping the coffee stains off the pillow which you accidentally spilled while trying to kill me with your fatal tickles.
I wish.
But there are no Sunday mornings.
No burnt toast and eggs.
No lucid dreaming.
No coffee stains.
No you and I.
There is only I - in all of it's bold and capital grandeur.
It's another Saturday night in my empty apartment. I just read Love & Misadventure in one sitting and it got me excited about the poetic, overly and hopelessly romantic shit I might write when you finally come around. I will write you stuff made of greeting cards and sappy love songs just because you made me wait this long to have the license to be head over heels in love and cheesy.
I'll go back and forth in my mind of the mad lonely nights I've endured, nights like tonight, the first night of June, when your absence was most felt, when I'm staying up late browsing through happy couple instagram photos, reading self-help articles about being single and convincing myself everything is fine.
But honey, I might not be fine after all.
Every song on my Spotify playlist reminds me of you. The rains reminds me of you. My 4 am taxi cab rides remind me of you. The spaces between my fingers remind me of you.
But I know the mature things to do is to be okay for another day and fake it until our paths cross. Maybe then I can finally begin a post about a recent memory of you and I… and quite possibly, it will be about our Sunday mornings.


Prologue
It's my last night in my childhood home. The next time I'm coming back is probably twelve months from now. I'm going to return to my empty apartment of unwashed dishes, dirty laundry and unmade bed in all of its lonely grandeur. I've been sighing the entire time I've been packing. I don't want to leave just yet just because I get to feel like a child in this place, under this roof, with sisters to kindly boss me around and parents to reprimand me of staying out too late. I can let my guard down. I don't have to scramble when my name is called. I can just be here in this moment like I'm not here (if it that makes sense to you). haven't been out much for the entire time I've been here. The city has moved on without me and there's nothing out there for me to rekindle and catch up with. I have disappeared on this city's map, transformed into a ghost. I don't recognize anyone on the streets nor they recognize me. I've been just staying on my bed asleep, yet I feel like everything is in its perfect and right place. I am home and safe and sound. I am no one else but someone's daughter and sister. I am just a person without a position or a title. I am living in an existence of its simplest form - to sleep, and eat, and breathe and live for the day.
But tomorrow morning, I leave to face a different life, and so I have to muster every fiber of my being to grow up as soon as the sun rises. I will try to find myself inside these sheets. Sigh no more.


Elusive
I wish I wasn't so afraid, nor so cautious about it. I wish I would just go for it head on, because it's how it's supposed to be - fearless in reckless abandon, like wearing that beating organ in my chest on my sleeve. I grew up as a sheltered kid. I was raised in an uptight Catholic school and matters like this were hushed at home, like a sin that was supposed to be swept under the rug. Even when I was in college, it seemed like I was made aware that it won't do me good, that it's something to be put off until there's a diploma in the picture. I think I've been missing a big part of the whole living experience because its grand existence has remained a mere concept to me; it's something I've read and heard so much about but has felt so little. 
I'm half a human being. 

For Juan
I'm back to our little neighborhood cafe, still sitting in the corner, the one I referred to one year ago. A few pounds fatter and a years-worth of sleep deprivation evident on my face, I'm writing again to tell you that I survived my first year in the nitty gritty entertainment industry. *standing ovation*
Words and adjectives are not enough to fully explain how I have been. I've bounced like a ping pong ball to the worst and to the best moments of my 21 year existence. Showbiz is for the thick-skinned, indeed. For the idealistic post-grad newbies like me, it's like a creature/machine who'll eat you up and chew you like a gum, throw you out of the window to be run over by ten-wheeler trucks, only to test you if you can dust yourself off and repeat the same process all over again the next day.
The past year has been a bipolarity of all sorts. I came to the point where I drafted my resignation letter and only mustered enough courage and sanity to hit backspace several times; I dwelt on days when I kept on convincing myself that the only good thing about waking up in the morning is that it's one day closer to the finale.
But then, I also had those moments when my disposition would turn 180 degrees. There are times when I watched our show, I'd get all teary-eyed thinking to myself, "this show is so damn good and I'm part of it!" I'd pat myself in the back for doing something good and relevant to society by working for a TV show that inspired so many Filipinos. I felt like a mattered.
My work was like a love-hate relationship. It was both my source of depression and happiness.
I never knew I was capable of doing so, but I gave my all for the show - my schedule, my free time, my health, my comfort, my hobbies - the entirety of me. God knows how many birthdays, anniversaries, break-ups, drunk sessions, and family affairs I missed because of taping. My family have already forgotten how I looked like. Suffice it to say, it demanded all of me, and I had to surrender - the truest, purest manifestation of workaholic-ism. 
But Ralph Waldo Emerson said, for everything you have missed, you have gained something else. I may have gained weight for sure, but it's not all that. No amount of rest, or sleep, or TF can buy the life experiences and friendships I gained because of this job. We've been through so much in the show, we've defied impossibilities on Philippine TV (you guys have no idea what happens behind the scenes). We were all in it together, and surviving all that sealed the deal of our solid bond. The kind of company we had on the set was the sweetest take home prize of all.
Perhaps the most of what I got from my job is how much it made and unmade my character. It built me up, only to tear me apart again. Like our bida, Juan, it was ultimately a journey of self-discovery for me, too. It taught me values I wouldn't learn anywhere else. This, I apparently discovered, is a no-bullshit industry. I was forced to grow up beyond my years, for a stupid mistake would entail thousands (and a long sermon from your superiors). 
This show has earned a permanent, indelible spot in my heart (I'm getting all teary-eyed right now typing this). And I will miss it all so dearly (even if I hated it to the core at one point). I'll miss the set, the lifestyle, the people, the daily grind. I was never sure I would finish the show… but I did. And I learned to love it along the way.
But right now, uncertainties cloud my mind, and I don't know what's next for me. The future is such a scary place, though my experiences from my first show has greatly given me enough courage to march on like a soldier.
This is a time for some great introspection.
But I thank you, Bossing, nonetheless, for granting me what I wanted. To work on television production was exactly what I hoped for. My first show was nothing less but Juan Dela Cruz. I'm a lucky girl!
And to Ms. Emerald and ate Eila, thank you for the second and third chances, for allowing me stumble so that I could wash the blood off my knee and learn the lesson the hard way. Kuya Bryan, kuya Jaypee, ate Trish, ate Alma, kuya Kim, thank you for the leadership, for the guidance and advice. I appreciate all of it even if I appear to be so stubborn. To my crew barkadahan, our drinking sessions helped me survive it. I'm just a text away. *wink wink*
Ah, and now - photos! 
Thanks for the memories.

To my friends in real life
I know I haven't been physically around for months. I wasn't there when your boss patted you in the back for a job well done. I wasn't there when the cute guy in the grocery store opened the door for you. I wasn't there when you moved in to your new apartment. I wasn't there when you and him broke up. I wasn't just there - when life was and is gradually happening and unraveling for you.
For this, I humbly apologize.
I feel that I am at a critical phase in my life when the world is so ungenerous to me, of time and moments and the in-betweens.  I am always running against the ticking of the clock, and that the hours are like grains of sand on my hands - swiftly being blown away by the winds of deadlines and to-do lists. Perhaps I am severely guilty of work-life imbalance, and right now, I am in no position to have a cure for it.
I miss you friends in real life, and I feel like Sylvia Plath right now - reeked with sadness for missing out in the most exciting twentysomething moments of your lives. We're supposed to be out there together, conquering one adventure at a time like the plans and dreams we carefully wove in our imaginations back in college. 
I am sorry for taking an inevitable solo flight.
All I ask is that you don't forget me; that for every laughter or tear you encounter in my absence, remember that I am thinking of you. Always. 
When I finally have my time and myself back from this odd, irregular world I signed up for, I hope it will be like how it was before the crazy schedules and flux of life came in - just you, me and the genuine friendship we have.
Sincerely,
Char


Dearly beloved
I'm writing to tell you that I am alive and well, and probably am in my best living condition to date. I can't begin to write about the past few months of my life because it's quite difficult to sift through all that huge dosage of life experiences. In addition to that, I think that perhaps in the process of carping that diem, I may have lost my mojo in writing and chronicling my history. You know, blogging has its obligation to sticking to the aesthetics, accuracy and color of a certain memory one is writing about. I don't want to reduce the past few months into a bland, understated paragraph. 
Let's just say, dearly beloved, that if people keep on saying that "in the end, everything will be all right" then maybe this is the end? Because right now, this warm fuzzy feeling in my chest is telling me that everything is good and right and pleasant. So this is how it feels - to bask in the belly of life, to prance in the beauty of existence, to understand what it is to be human. It took twenty-one years for the universe, and the stars, and the cosmos to conspire to grant me the wonderful privilege of this feeling. Have I even lived before this?
If my words ring true and breath runs out of my lungs in this end, I wouldn't mind lying on my grave with this feeling of having truly lived.
This year, I am a champion at winning in life.

For the yuppies
I call this playlist "Songs For The Idealistic Post-grad With Existential Crisis." Hands up if you're one of us. The best time to listen to this playlist is during your morning or evening commute, while you're staring outside the window of the train/cab/jeepney (and coincidentally, a plastic bag drifting through the wind appears… and you have a strange empathy towards it) and you feel like you're inside a Sofia Coppola movie. Click here to download!
Track list: 
1. Imagine the Dragons / It's Time
2. Death Cab For Cutie / The Sound of Settling
3. MGMT / Time to Pretend
4. Bob Dylan / Changes
5. Switchfoot / American Dream
6. Empire of the sun / Walking on a dream
7. Jimmy Eat World / The Middle
8. Scouting for girls / Famous
9. Foster the People / Houdini
10. MGMT / The Youth
11. Eddie Vedder / Society
12. Noah and The Whale / L.I.F.E.G.O.E.S.O.N.
13. OK Go / This too shall pass
—
And here are some words of wisdom from Charles Bukowski.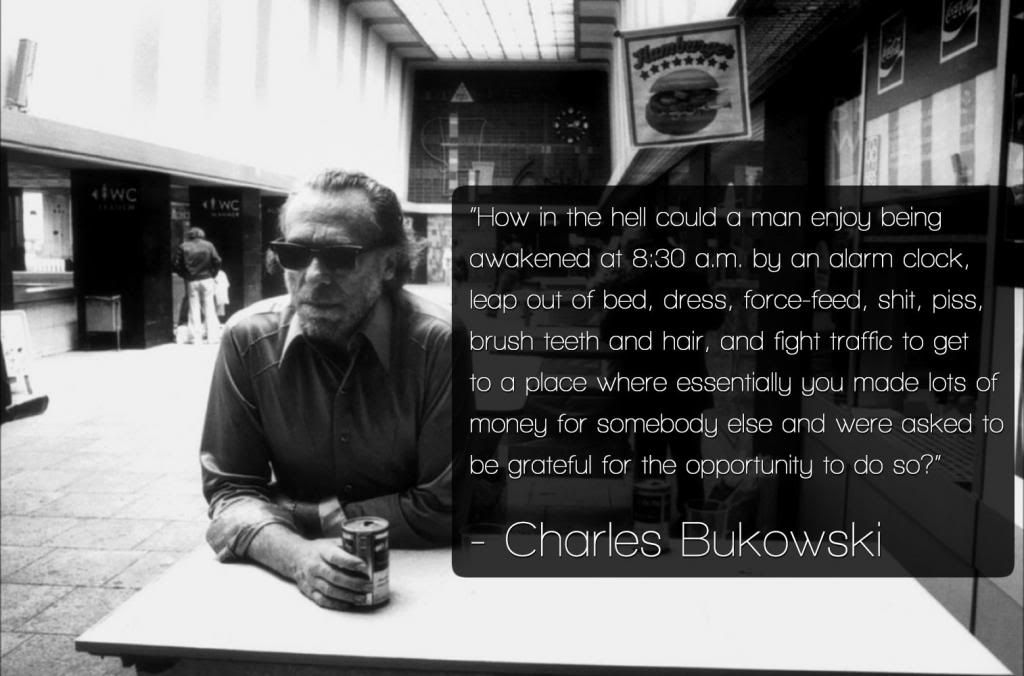 Bull's-eye!


Page 1 of 76